St. Ignatius Loyola
Fill us, we pray Thee, with Thy light and life,
that we may show forth Thy wondrous glory.
Grant that Thy love may so fill our lives
that we may count nothing too small to do for Thee,
nothing too much to give,
and nothing too hard to bear.

Teach us, good Lord, to serve thee as thou deservest :
To give and not to count the cost;
to fight and not to heed the wounds;
to toil and not to seek for rest;
to labour and not to ask for any reward,
save that of knowing that we do thy will;
through Jesus Christ our Lord.

-Amen




My Gift

Lord, I freely yield all my freedom to you.
Take my memory, my intellect and my entire will.
You have given me everything I am or have;
I give it all back to you to stand under your will alone.
Your love and your grace are enough for me
I shall ask nothing more.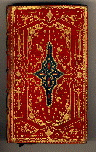 ST. AUGUSTINE
RICHARD OF CHICHESTER
ST. IGNATIUS LOYOLA
ST. FRANCIS OF ASSISI