St. Francis of Assisi
Lord, make me an instrument of Thy peace.
Where there is hatred, let me sow love;
Where there injury, pardon;
Where there is doubt, faith;
When there is despair, hope;
Where there is darkness, light;
When there is sadness, joy.
Oh Divine Master, grant that
I may not so much seek
To be consoled, as to console:
Not so much to be understood as
To understand: not so much to be
Loved, as to love:
For it is in giving that we receive;
For it is in pardoning, that we are pardoned;
It is in dying, that we awaken to eternal life.
God Almighty, Eternal, Righteous, and Merciful, give to us poor sinners to do for Thy sake all that we know of Thy will, and to do always what pleases Thee, so that inwardly purified, enlightened, and kindled by the fire of the Holy Spirit, we may follow win the footprints of Thy well beloved Son, Our Lord Jesus Christ.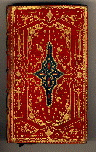 ST. AUGUSTINE
RICHARD OF CHICHESTER
ST. IGNATIUS LOYOLA
ST. FRANCIS OF ASSISI