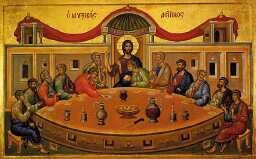 Christ's Love has gathered us all
into one company
And they began to be sorrowful, and to say unto him one by one,
Is it I? and another said, Is it I?
Jesus,
remember me when you come into your Kingdom,
Jesus,
remember..

And as they did eat,
Jesus took bread, and blessed, and brake it,
and gave to them, and said,
Take, eat: this is my body.
And he took the cup,
and when he had given thanks,
he gave it to them: and they all drank of it.
And he said unto them,
This is my blood of the new testament,
which is shed for many.
Verily I say unto you, I will drink no more of the fruit of the vine, until that day that I drink it new in the kingdom of God.

This is what will mark you out as my disciples:
the love you have for one another.